Gas Boiler Supply & Installation
Gas Boiler
Affordable Installations & Replacements
Gas Boiler supply and install energy efficient boilers directly to the Irish market. We handle the entire process of replacing your old gas installation with a brand new model, with the job done by fully qualified gas installers. Here at Gasboiler.ie our philosophy is that you become better with focus. Our installers work with premium boiler models day in, day out in order to maximise both their efficiency in installing the products, but also their understanding of the mechanics of the gas boilers themselves. These two qualities combine to create staff who are experts at what they do, able to offer insight and advice on what best suits your home.
Gas boiler prices can vary depending on which manufacturer you go with. We recommend a select few companies that we think are best for the consumer, but still cost-effective. We have a range of boilers to suit many price points, however a gas boiler upgrade is a significant home upgrade. Your gas boiler is essential for your home heating & hot water. Therefore, you're going to want the best.
Always Ready
For gas boiler installations.
Wide Range
Of gas boiler models.
Worry-Free
With manufacturer warranties.
Gas Boiler Replacement
Supply & Fit within 5 Days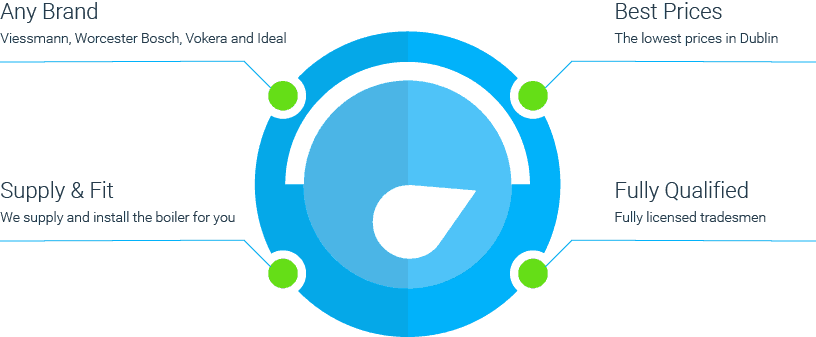 Gas Boiler Replacement
Supply & Fit within 5 Days
Any Brand
Viessmann, Worcester Bosch, Vokera and Ideal
Best Prices
The lowest prices in Dublin
Supply & Fit
We supply and install the boiler for you
Fully Qualified
Fully licensed tradesmen
Gas Boiler Prices
Including Installation & VAT
Viessmann
Worcester Bosch
Vokera
Ideal
Prices include standard horizontal Flue Kit. More boilers available at request.
Gas Boiler Installation
Professional Fitting with Every Gas Boiler Purchased
In the vast majority of cases our energy efficient gas boilers will suit your home perfectly, most Irish houses are similar in design after all and our staff have encountered enough problems over the years that they're usually able to think there way out of it before the drama sets in. Ultimately that's what Gas Boiler offers, a drama free way to upgrade or replace your old boiler system to be more energy efficient and have cheaper running costs. We're the absolute best in the business offering stellar service at reasonable rates.
Gasboiler.ie operate a fast service but we're usually fairly booked up. The best way to organise a boiler replacement is to e-mail, phone or leave a message on the website and get in touch with us to organise dates so we can get your switch sorted as soon as possible. We're dedicated to installing your gas boiler as soon as you say go and as long as we have a bit of time to work with we'll finish it quickly and easily.
In addition to the gas boiler price, we also fit every gas boiler purchased from our website here at gasboiler.ie. This means you're guaranteed to get a gas boiler upgrade that has been fully checked by us here down in the factory before being fitted.
Our Process
Fast & Efficient
Gas Boiler have a simple process when we get an inquiry. We put you in touch with our operations manager to talk through your gas boiler options, usually depending on the size/amount of radiators in your home plus the size of the water tank if it's a weird/custom size.
Most people just have standard tanks and don't know the measurements, which is fine. Then we'll choose the best gas boiler for you, always a newer energy efficient model, and organise dates for it to be installed with one of our technicians. After installation we'll keep in touch to sort out payment. Most boilers come with large manufacturer warranties – in the range of 7 years – so you can have peace of mind that your new boiler will be the least of your worries for a long time.